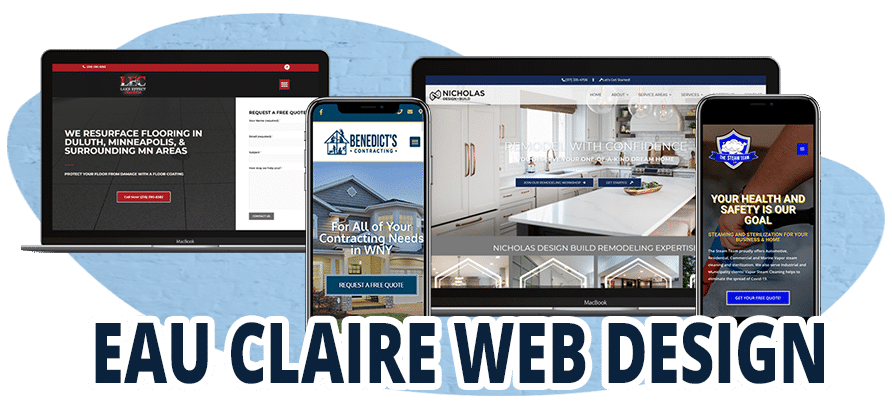 Custom Website Design Helping Your Business Grow
Are you ready to website design to the next level? Get the best web design Eau Claire has to offer your small business.
Affordable Website Design Eau Claire WI
Work with an Agency That Understands Your Business
We're a marketing agency that views our relationship with you as a strategic partnership. The more we help you grow your business, the better it is for us in the long-run as well. We also pride ourselves in quality customer support as well. We're based up in Superior, WI and make frequent trips throughout the Midwest to visit our clients. 
Why choose us? We specialize in custom website design for small businesses, search engine optimization, marketing automation, and more. We're your one-stop-shop for marketing services. Plain and simple. 
Partner with Bear North Digital today and get your new website! We provide premium web design for your Eau Claire business. We assure you that by choosing Bear North, you'll be partnering with a long term strategic partner.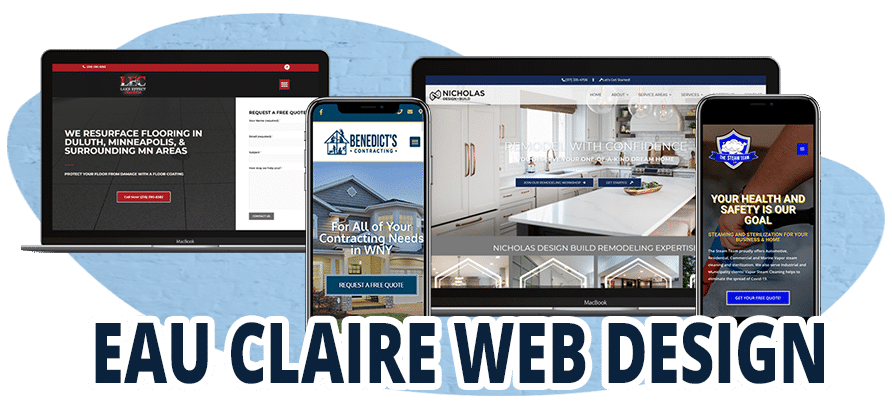 What About Other Services?
We're laser focused on being your strategic marketing partner. In addition to website design, we also offer the following:
Search Engine Optimization ( SEO ) – helping you acheive higher organic rankings in the search results. Search engine optimization is likely the reason you found this page. We eat our own cereal, or whatever they say!
Marketing Automation – we help automate processes, allowing you to focus on the high-level aspects of your business. We help eliminate some of the tedious tasks you are often doing when it comes to communicating with inbound leads.
Paid Ads ( PPC ) – we offer paid ad management for Google Ads, Bing Ads, Facebook Ads, and more! If you're interested, get in touch and we will talk through whether it would be a good fit for your business!
Business Listing Management – we manage your business listings so you don't have to! 
Graphic Design, Photography, and Videography – we provide affordable services when it comes to these, because we feel it is important and intrical to our core offering. We have all of the tools and tech to make it happen. Including a drone!
Social Media Management – we have in-house social media managers that can help grow your social media channels! 
Questions Regarding Eau Claire Web Design?
Why should I choose your agency for Web Design in Eau Claire?
There are a number of reasons, the main one is we are a growth-oriented agency that is small and scrappy. You aren't just a number to us. You're a strategic partner. That said, we may not be the perfect fit. Get in touch with us, ask a few questions, and if in the end you need help vetting other agencies, we would be happy to help. We have a servant mindset when it comes to our business.
Are you located in Eau Claire Wisconsin?
No we are not. We are based out of Superior, WI. A mere two hours from Eau Claire, WI. We work with businesses all throughout the US including Superior, Duluth MN, River Falls WI, Milwaukee WI, New Berlin WI, Eau Claire WI, Monomonie WI, Hibbing MN, Hermantown MN, and more.
If you'd prefer an in-person visit, just let us know and we will be happy to visit you in Eau Claire, WI!
How much do you charge for website design?
Every website is different, so we choose not to have a one size fits all price point. Different businesses have varying needs and budgets. Having a one size fits all price would be a disservice to your business. However, most websites would typically run anywhere from $3k-10k+.
Do you offer monthly maintenance plans?
Yes, we do! We pride ourselves on providing high-quality maintenance services at an affordable price point. We've worked tirelessly at providing a high quality hosting and maintenance plan that works for small businesses, and provides maximum value for you as well!