A Duluth Digital Marketing Agency that Can Help Take Your Business to New Heights
Working with Bear North Digital, a top Duluth Digital Marketing Agency, will ensure that your marketing campaigns are driving traffic, leads, and new business! We're committed to driving business growth with effective marketing and digital campaigns.
Why Duluth, MN and Superior, WI area businesses benefit from Digital Marketing
Choosing an efficient and committed marketing agency such as Bear North Digital can do wonders for your brand and business. As a Duluth Digital Marketing Agency,  we take care of everything marketing-related for our clients, from day-to-day marketing strategies to using the right tools, tools, and strategies that boost your traffic and presence. We pay close attention to the details while ensuring that we remain creative, giving you and your brand the very best that they deserve. At Bear North Digital, we consider your digital presence like it is our own.
Bear North Digital strongly believes that customer relationships depend on transparency, which is why we are not just creative and experienced but also transparent and accountable. We take our clients with us on their journey towards a better marketing future, achieving our client's goals, expectations and objectives together.
What Does Digital Marketing for Duluth, MN, and Superior, WI Businesses Look Like?
In today's day and age, digital marketing has become absolutely crucial for a business or brand to reach the heights that it aims to. And at Bear North, we help our clients achieve precisely that. Our digital marketing team of experts have a well-planned (and documented) process that we execute for each of our clients.
This process starts from assessing our clients' current marketing performance and evaluating what needs to be done to boost their performance. The next step involves planning the exact strategies that can help grow our clients' business, and this stage leads to the next and most crucial step for our digital marketing team experts – execution.
We understand the importance of digital marketing and its impact on our clients businesses, which is exactly why we believe in offering individualized services where we understand, assess, and evaluate all our clients individually to better cater to their personal needs. This allows us to create unique marketing strategies and campaigns that do not only fit our client's visions but also align with the business's vision.
Having an attractive and engaging website is vital if you want your brand to increase its reach, and that is precisely what Bear North excels in. We ensure that your website represents everything your company stands for and believes in, and our website designers bring your vision to life in the form of an engaging, attractive, and well-structured website that is SEO-optimized.
Digital Marketing
As a top Duluth Digital Marketing Agency, we strive to build a solid foundation that every business needs to empower their digital marketing campaigns. And we achieve this by working on different digital marketing areas such as:
PPC
Lead Generation
Email Automation
Landing Page Templates
Marketing Automation Funnels
Digital Marketing Reporting and Dashboards
Website Optimization and Development
Call Tracking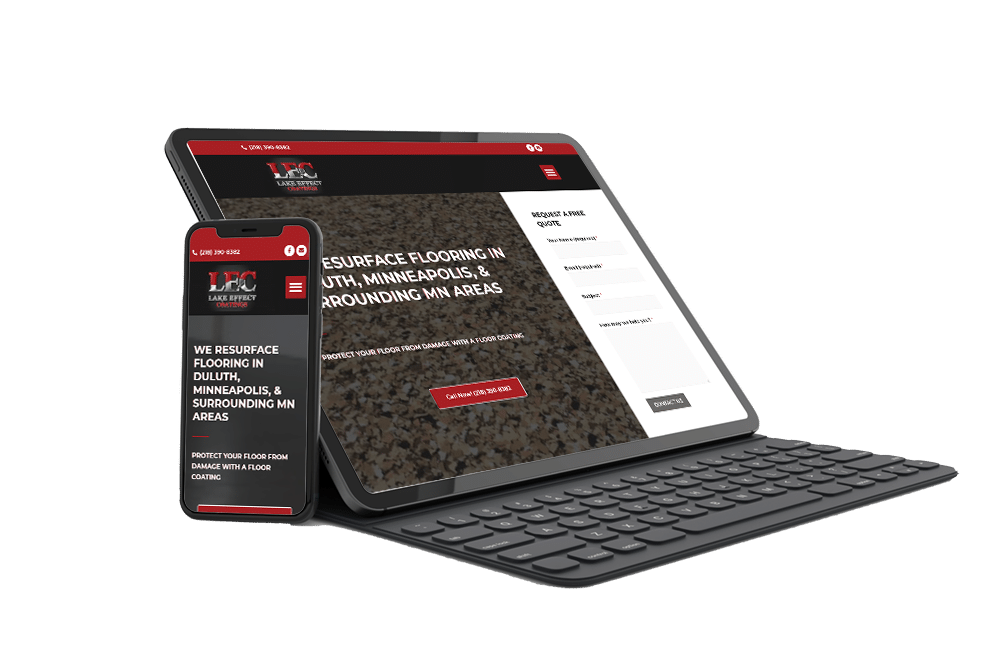 Search Engine Optimization
We strive to generate organic traffic and leads for our clients, and we achieve that mainly by focusing on our client's SEO (Search Engine Optimization) efforts. We're SEO experts, we've helped numerous Duluth MN and nationwide clients 10x their traffic, and we look forward to doing the same for you!
Paid Advertising
At Bear North, we provide monitored paid advertising campaigns and help with their management across a range of popular search engine and social media platforms such as:
Google
Bing
Facebook
Instagram
LinkedIn
& more!
Google and Bing Ads
Our marketing experts run Google ads campaigns that help grow your business. We focus on getting a great return on ad spend (ROAS) that makes sense for your business.
Facebook and Instagram Ads
Whether you plan to boost a particular post, engage more with your target audience, or just want to grow your reach, Facebook ads are the best tool considering how Facebook has become one of the most used social media platforms now and has been so for the past few years. At Duluth, we help you achieve your advertising goals with the help of platforms such as Facebook and Instagram ads.
Marketing Automation and Email Marketing
Even after almost a decade, email marketing and marketing automation still remain one of the best marketing options, regardless of whether the brand being promoted is new or pre-established. The marketing professionals at Bear North Digital help you develop exceptionally targeted and customized emails that help you drastically improve your response rates while also helping you remain relevant to your customers.
Graphic Design and Branding
Our creative team members help our clients create engaging visual communication content for their clients. Our services include a range of specialties such as logos, style guides, marketing material, banners, etc.
Get Your Free Digital Audit Today!
At Bear North Digital, we firmly believe that audits of your online presence should drive your decision-making. Our 100% Free Audits are used to increase Google search engine rankings in the SERPs while boosting site traffic and performance. For a limited time, mention that you're a business near the Duluth Minnesota area and we'll go a little more in-depth than our typical audit! Book your free audit today!
Download Our Free Checklist!
Your Digital Marketing Checklist For Twin Ports Businesses